Hey all! Hope everyone's doing well :) So I just wanted to show you a few pics of what I got at the Spa and Esthetics Show. I really wanted to show you guys what it looked like inside, but when I went through my pics, nothing seemed to do it justice because of the layout. I'll just tell you that it was massive and not at all what I expected. I was expecting something more intimate, like how I found the IMATS in Vancouver to be, but it was bustling man.
Anywho, on with the pics...
This is where it took place this year. It was downtown Vancouver at the Convention Centre. I thought it would be at the new convention centre we have, but apparantly that one's not opened just yet.
And when I moved my camera a few inches to the left, this is the view...
I kept sneaking out of the show to sit outside cuz it was a gorgeous day and there was a lot of estrogen in there. Needed air.
I picked up this little sucker for (as you can clearly see in tihe pic) $7. Which was a steal. I only got it for 3d acrylic nail art. It looked perfect. But I should probably do some searching to find out what brush is best for that.

And I wouldn't be me if I didn't get some nail art, so I grabbed this. It's a set of diefferent coloured metal pieces.
And this set is a mix of sparkles, confetti pieces, shells...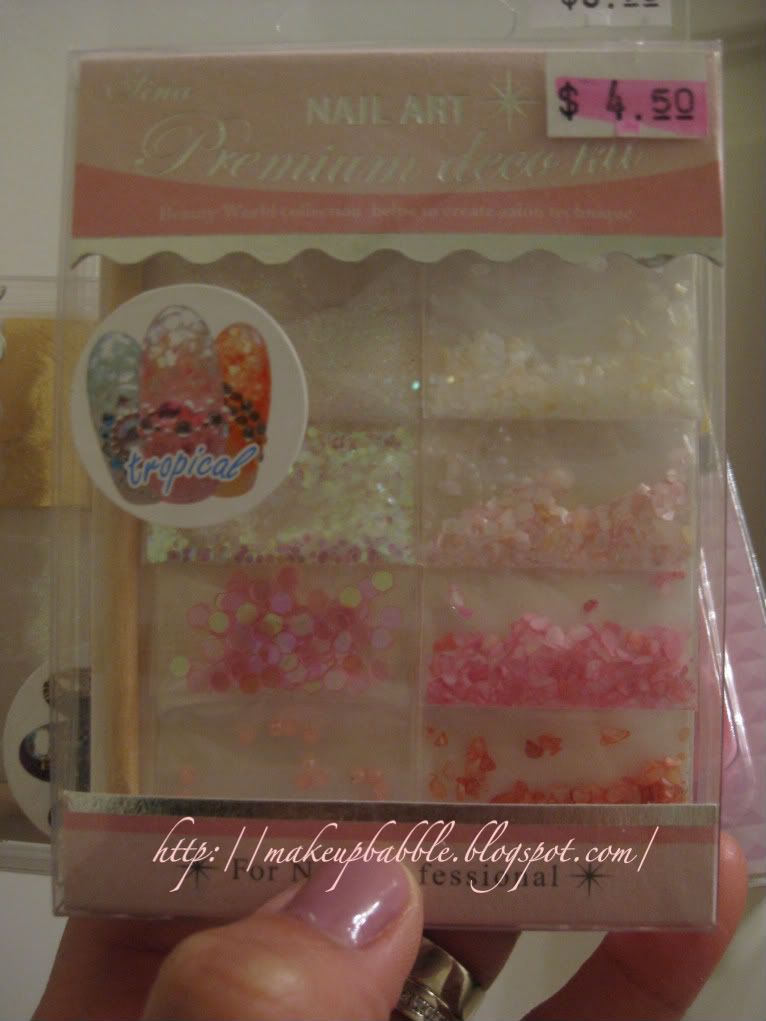 This one is a deco kit that features the jewel theme.
In class we've been pushing back cuticles with orangewood sticks cuz the metal ones can be kind of dangerous if you're not used to using them on other people (which we're not, since this is all new to us...I've used them on myself, but not on others). So she suggested this one cuz it's a lot less dangerous than the other ones...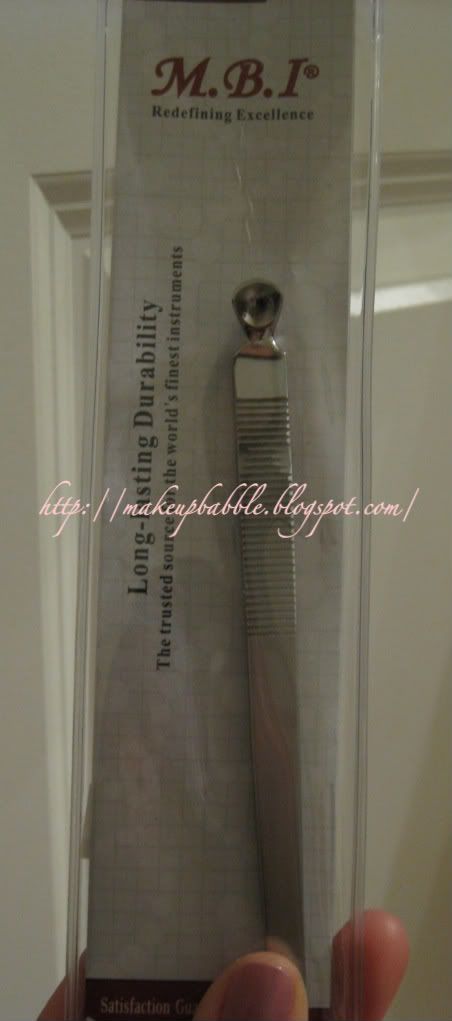 Here's a side view...it's kind of scooped and I like the way it gets rid of all the excess skin that attaches from the cuticle to the actual nail...do you know what I mean (technical term: paronychium. I'm studying for an exam this Monday....can you tell? HA)
It's so good, and I find that with the flat, metal cuticle pushers, it's easy to push too far. But this one because of the shape doesn't really even let you go too far. LOVE. This was only $14 at this booth that had a million and one metal tools. My friend told me that it was $39 at the OPI booth.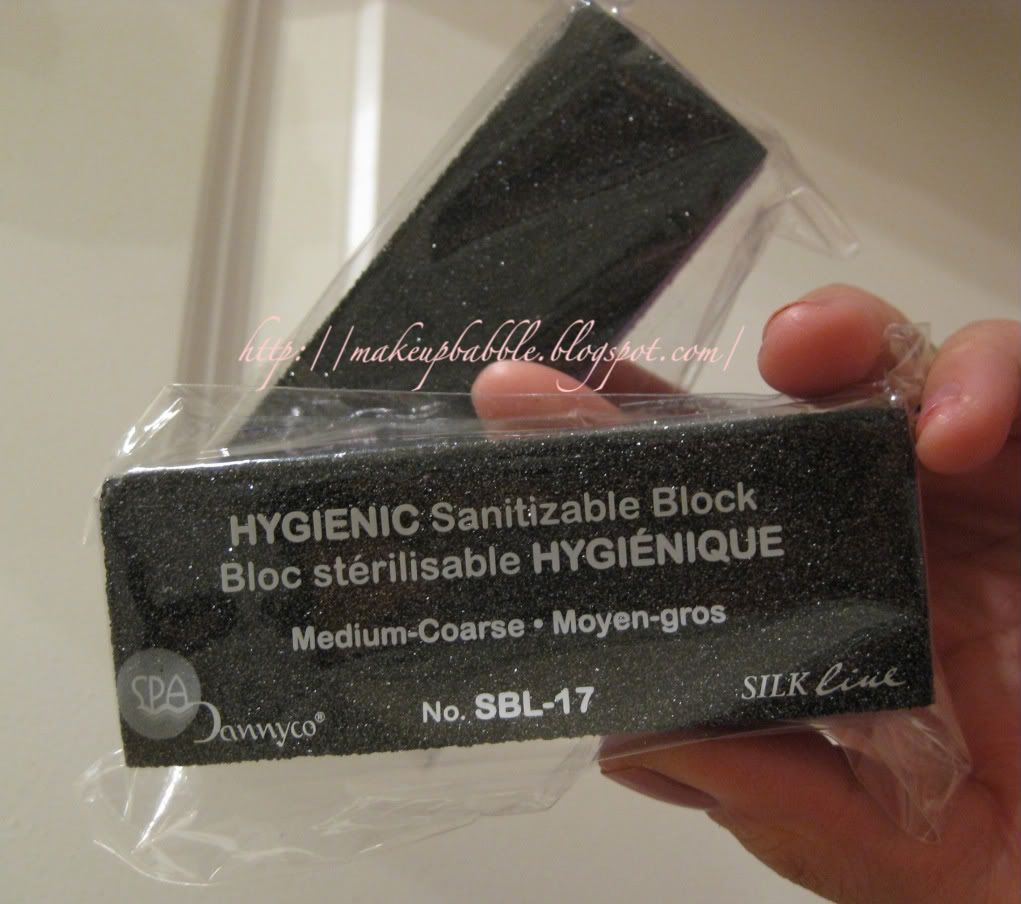 Picked up some buffer blocks. I paid less than $2 for both of them.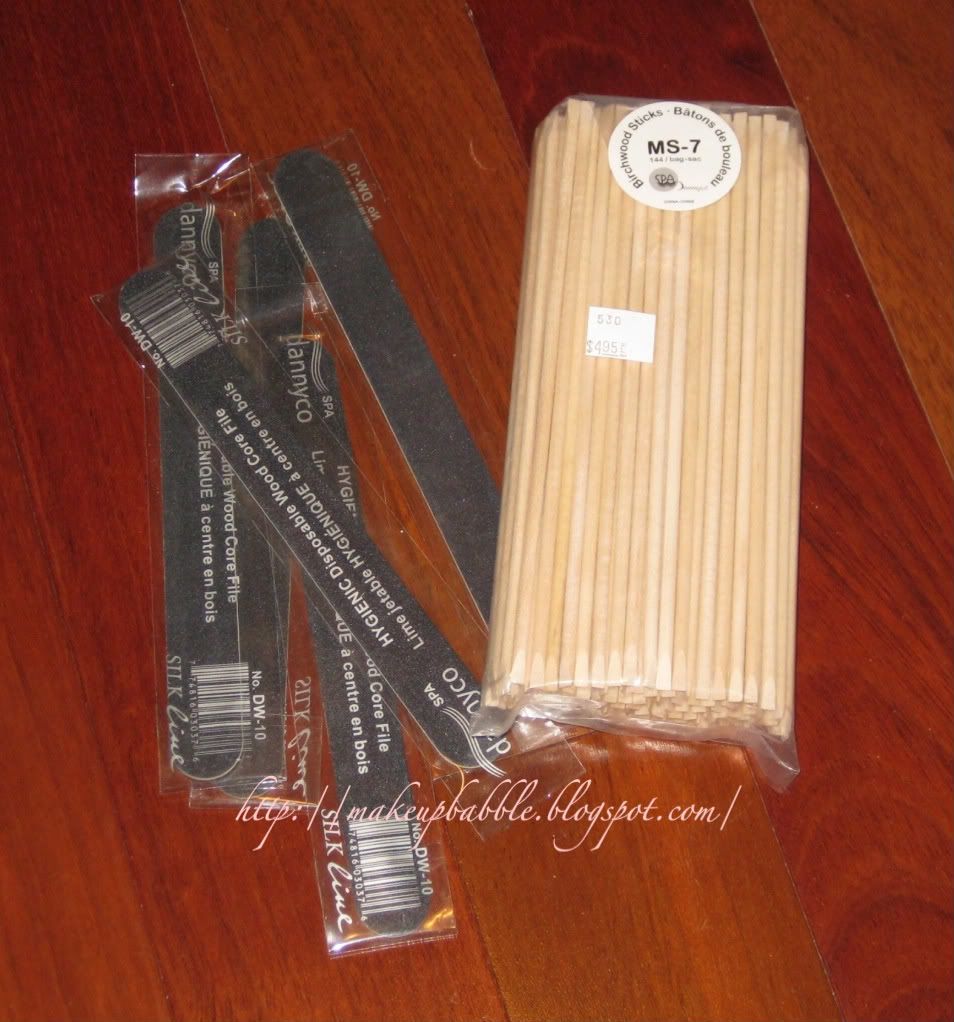 And I got these disposable files for class at $0.25 a piece and that pack of orangewood sticks was $4.95 for 144 pieces.
That's all I got for nails. I was kind of overwhelmed by it all. They had people there selling gels and acrylics, as well as stuff for the body. I was there to see the esthetics part of it. I was there strictly for nails and since I'm still in the natural nails portion of my classes (I haven't hit the artificial part yet) I didn't know what to buy. The nail polishes weren't really priced any better than the nail supply shop I go to, so I skipped on those.
I did buy a ton of makeup at the show tho, cuz it was crazy cheap! I actually think that I probably got more there than at the IMATS. But I'll be showing that on my makeup blog soon if you guys are interested. I'll let you guys know when I post it if it interests you guys.

But I did check out the CND booth who were showcasing this new product called Shellac. It's like a gel polish but it came in a bottle that looked like a nail polish bottle. So you're supposed to get 14 days wear out of it and you cure it with a UV light like a gel, but it applies like a polish. And it soaks off in 10 minutes with these wraps that are soaked in acetone and get wrapped around each finger. So no "soaking" in a bowl.



This lady was getting them done and was kind enough to let me take some pics! Nice smile lines hey? They looked so shiney like only gels can get.
And then my classmate came to class with this sucker!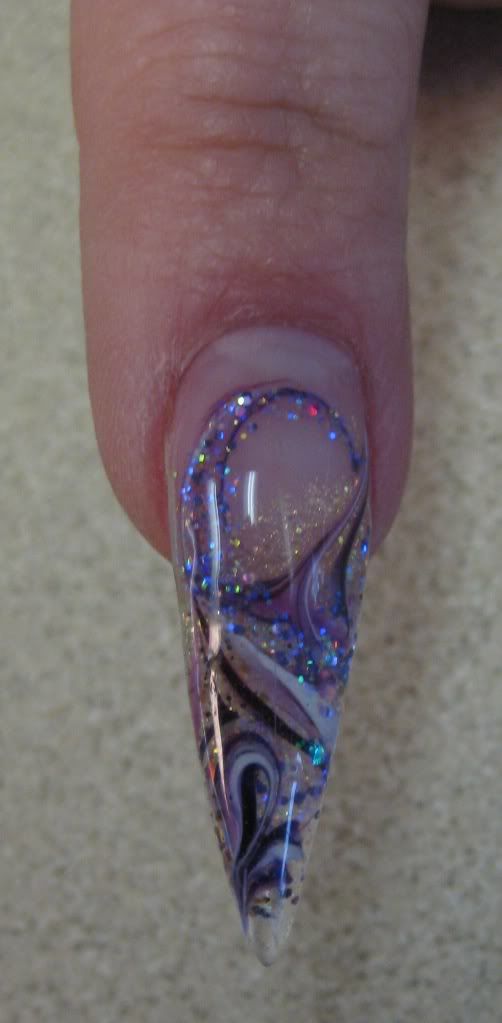 WHOA! I love it! Stilleto like crazy. Yah, they were offering nail sets and a full set of glitter gel toes at certain booths which was cool. I didn't want to get any done since I have to have natural nails for class. But this was nuts. She only got one nail and I was like, "Don't put that thing near your eye!!" Good luck wiping your butt with that thing. Is that weird? Well, not her specifically, but there were women at the show that had all 10 done like this. And edge nails, too. Look it up if you don't know what that is. They're crazy, too.
Okay guys, that's it for now. Keep your fingers crossed for me on Monday when I take my first exam in YEARS. I don't want to give away my age here, but it's been a long while. Excuse my language, but it's got me shaking like a shitting dog.
**sigh** I should go study...
Good night!






You have read this article HAUL / spa and esthetics show with the title The Spa and Esthetics Show Vancouver 2010. You can bookmark this page URL http://ojezevki.blogspot.com/2010/04/the-spa-and-esthetics-show-vancouver.html. Thanks!