Hi everyone! So first, just wanted to say that I'll be at both the IMATS and the Spa and Esthetics shows this weekend in Vancouver, Canada. I don't know if there are any of you lot out there who are locals and are checking out either show...but if you are, and you see me, please say hi! I'd love to meet any of you out there, but unfortunately, I kind of feel like I'm the only Vancouverite out here who's so obsessed with nails and makeup...in the blog world anyway! haha. If you are going to the IMATS, I'll be there most of the day on Saturday and for part of the day on Sunday with a press badge on (so I'll be kind of hard to miss) and not that I think any of my readers will be there but if you do see me and say hi and you're the first person to do that this weekend, I'll be giving out a little goodie bag. And if I can't get rid of it on the weekend, maybe I'll have to use it as a giveaway or something :) Moving along...
So just wanted to show you guys some swatches of a few nail polishes I've picked up in the last week. Sally Beauty Supply was having a buy 2 get 1 nail polish free thing, so I went to grab some Orly polishes. Orly is not really a brand that's easily accessible here in Vancouver, Canada where I live, so these are the ones that I gravitated towards. I wanted to see how it applied and how long a manicure can last with these. So I grabbed 6...2 of which are repeats and were put my
current giveaway
(<----click there to enter, it's super easy!)
The colours are, from left to right, Pink Slip, Basket Case, Petit Four and Alabaster Verve.
And here are 2 coats on my nails, swatched in the same order. No base coat, no top coat in case you're wondering. Just the coloured polish. This pic is with no flash. It's hard to see, but all the colours are a flat colour (no sparkle or sheen) except for the pinkie finger (Alabaster Verve) which has a sheen to it.
And with flash. I think that the Pink Slip is meant to be one of those semi-transparent colours, but I piled it on...I think with one more coat, you can get a milky pink. Btw, the 2 fingers in the middle...Basket Case and Petit Four are the ones in the big giveaway prize. And if you're wondering which polish made it on my hands and feet this week? The ring finger, Petit Four. I love the looks! (Stares at hands adoringly...)
And I also picked up a few OPI polishes in pink. Pink is like 94% of my nail polish collection! Haha, I always grab for pinks, so why not roll with it?
On the left is I Think in Pink, and on the right is Italian Love Affair.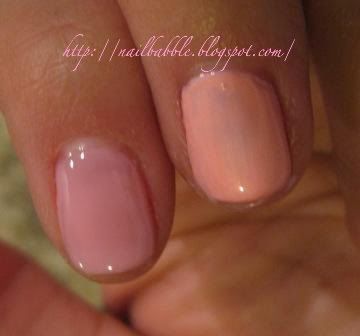 And swatches in natural light. Pink Slip has no sparkle of any kind, and Italian Love Affair is a frost...
...Which you can see better in this pic. Sorry, I didn't clean up since I was just swatching and not planning on wearing a different polish on each nail ;)
So far I really like the application on the Orly polishes. I've only been wearing it for 3 days now (no chipping so far) but we'll see. I'm usually so rough on my hands, but since starting my nail course I've been moisutrizing like a mofo and wearing gloves when I wash dishes which you should always do! I never ever did that. There are 2 things I usually never do when I wash dishes. I usually never wear gloves and I never put my hands under anything except pure cold water. Ever since I was a child. Anywho, I find that my polishes last a lot longer and my hands look so much better. There's nothing worse than tired, chipped polished hands (and I've been guilty of that more than a few times!)
Okay, so I hope you guys found the swatches helpful if you're looking for a new polish or 2. Talk to you guys soon!







You have read this article SWATCHES with the title A few OPI and Orly swatches for you guys.... You can bookmark this page URL http://ojezevki.blogspot.com/2010/04/a-few-opi-and-orly-swatches-for-you-guys.html. Thanks!