Hi everyone...So today I got to go and get a mani/pedi with my 2 girlfriends and it was heaven. Seriously, I wish I could get it done like 3 times a week. I love being pampered and getting taken care of! Plus, it was really fun checking out how people in my trade really do things once they leave school.
I went to a great little place called
Socialite Nails
. I'd been wanting to go there since I moved out to my area (which is like a year and a half ago!) but I'd never found the time. Well, I'm definitely going to find the time from now on. My hubby asked why I would pay money to get what I can do for free and I told him that foot rubs from myself are just plain weird and that my feet are too far for me to really get to and see properly. I'm pretty flexy, but I'm no pretzel!
This place looks amazing...New York loungey. And the staff were really nice and knew what they were doing. The owner of Socialite Nails, Amy, did my nails wowed me with just how nice she was and she was really easy to talk to. I told her that I was in a nail course to do what she was doing and it turns out I'm going to the school she went to. She explained everything she did (that isn't covered in my course) and answered all my questions. She even suggested that once I start the artificial nails portion of my class that I come in on a day when she's not too busy and that I watch her do a fill. She said that you can learn a lot from watching other people and I think I'm going to have to take her up on that!
I really wanted to tear the place up with pics for you guys, but to be honest, I was so busy enjoying myself and watching/learning that I only snapped a few.
Okay, so for obvious reasons I couldn't take pics of me getting a manicure, but I got a hot oil manicure where I soak my hands in coconut oil that's heated up. Great for dry cuticles like mine!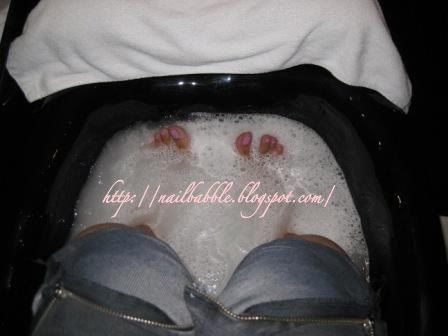 Okay, so weird pic. Here are my toots in a foot bath. So luxurious. Much nicer than the plastic tubs we use in class! And the best part was...
It was attached to a massage chair! Never been in a massage chair while getting a pedi done! And I love me my massages, I didn't want to get up!
So I picked a colour that I already have. So I thought I'd model it with the bottle of polish that I have at home. It's Lucky Lucky Lavender by OPI. And my ring finger is Mad As A Hatter by OPI, as well. On my toes I chose the sparkly ring finger colour on all 10 toes. Please don't mind the random smudges of paint on my hands if you can see them. I was trying to swatch some colours for you guys for an upcoming post and got a bit messy!
So if you guys are near White Rock, BC in Canada or even the Lower Mainland, check out this nail salon...much better than the chop shops and McNails out there. And I think they're one of only a few shops in the Lower Mainland that offers Minx nails.
So, I got a MAC gift certificate for my birthday from my lovely cousin and her hubby, so I thought I'd spend it. I needed something to hold my nail polishes for if I decide to travel with them (doing a home service or bringing them to school) and I checked out the hard carry all case, but I was surprised at how small it was for its price. Maybe eventually I'd grab one for myself, but the soft carry all seemed to be a perfect fit for what I was looking for:
It fits a good amount of nail polishes, not all of my nail polishes, but I can fit a good amount of a variety of polishes in there. AND it fits in my MAC Zuca rolling case which is a bonus.
It has a mirror in it, which to be honest is totally wonky and I would not use this to apply my makeup. It looks like those crazy mirrors you find in a carnival.
It comes with a zippered pouch on the back wall under the mirror and different sized pockets all the way around which is great...even though I'm not using those pockets, it's still a nice feature to have. It's not a huge case, but it's jsut the right size and shape, plus functional for travel. It's not heavy and I love it. I love how comfortable it is to carry. I think it'd be great for makeup artists who need to travel small...like for bridal touch ups before the reception. Or just a great thing to fit into a suitcase when you're traveling, if you're a makeup junkie like me who can't possibly pack light.
Anywho, I hope you guys have an amazing weekend and I'll talk with you soon!


You have read this article my nails / nail salon / socialite nails with the title My nails #6: Socialite Nails and my new nail polish home (for travel). You can bookmark this page URL http://ojezevki.blogspot.com/2010/05/my-nails-6-socialite-nails-and-my-new.html. Thanks!