Hi everyone, so I went to watch Iron Man 2 on Saturday and I enjoyed it. I wasn't there to judge it on its storyline or the actors (although I totally heart Robert Downey Jr...he's a sexy sexy man who ages well and he's hilarious in interviews and I love Gwyneth, too), I was there to just enjoy an action movie where I didn't have to think too hard about the storyline. Iron Man 2 was perfect.
All I kept thinking was that I really wanted to do a set of nails that were Iron Man themed. Which totally reminded me of Sarah from
If the Shoe Fits...
who does movie themed makeup looks. (If you're reading this, girl, HOLLA!) Only I think it's harder to do a makeup look based on a movie, cuz you have to find the right colours and apply them to your face in a way that looks pretty. So kudos to Sarah! I'm hoping to be able to bust out more of these, but to be honest I don't really take a lot of time out to watch movies...Maybe I'll have to make a point of doing that more often.
Anywho, here are the nails that I came up with...and yes, I only did one hand. My right hand only has black polish on it cuz there's no way my left hand could draw tiny, intricate little shapes and lines...it's kind of like a limp noodle. The pics may look small here cuz of the way my layout is, so feel free to click on the pics to enlarge.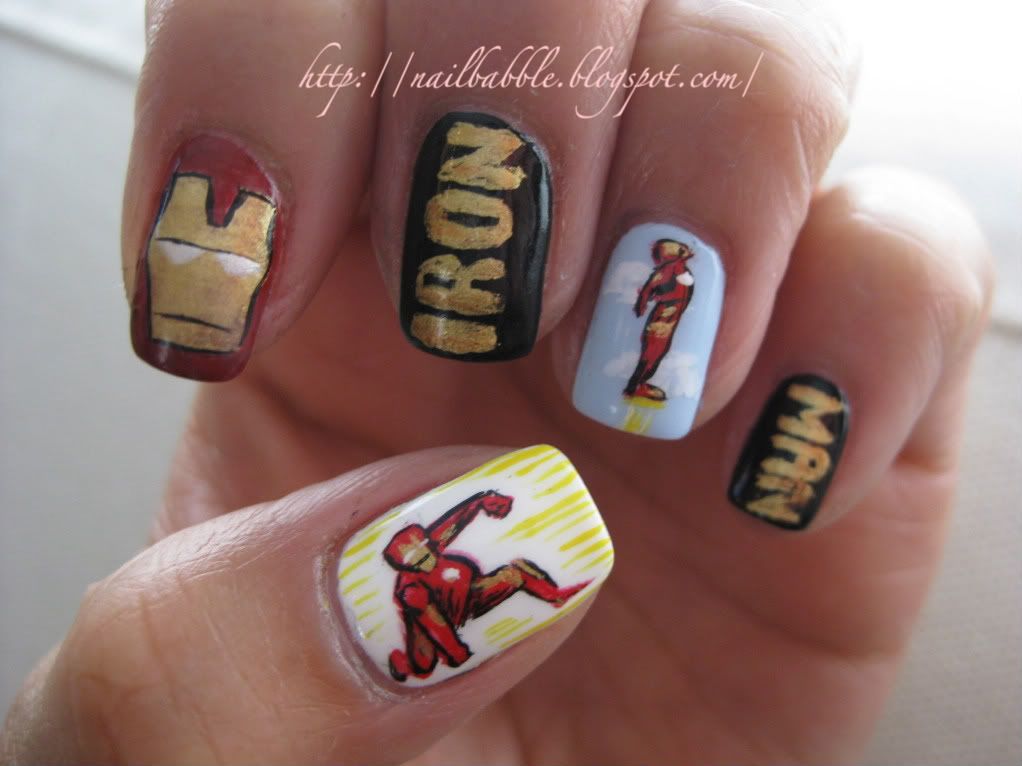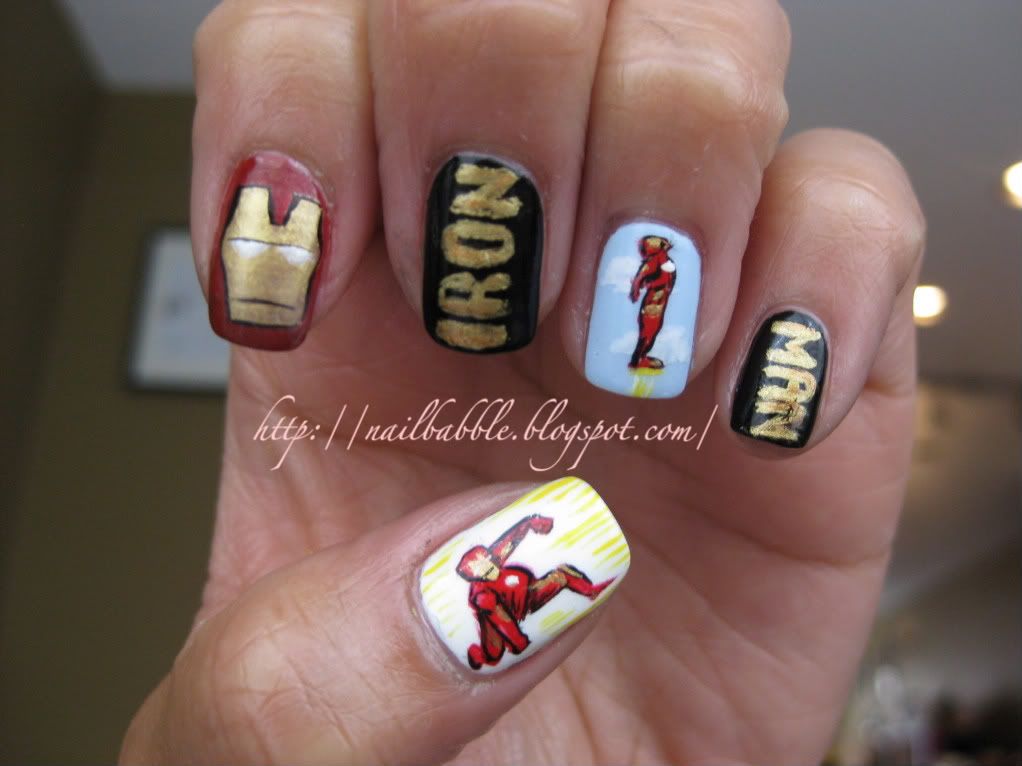 If you guys are wondering what I used to create these looks...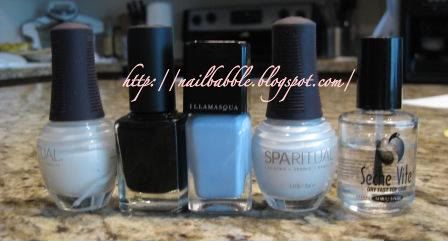 I used from left to right, SpaRitual basecoat (on all the nails), Color Club polish in Black (on the middle and pinky fingers and the entire right hand! lol...And just to let you know this is the most opaque colour black or otherwise that I've ever used...I only ever need one coat!), Illamasqua polish in Caress (ring finger), SpaRitual polish in french tip (thumb) and Seche Vite dry fast top coat (on all nails).
And for my birthday I treated myself to a pack of nail art brushes (artnails.com) It comes with these...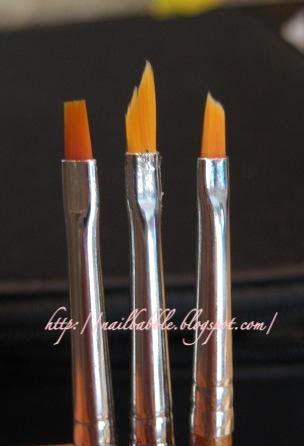 ...And these.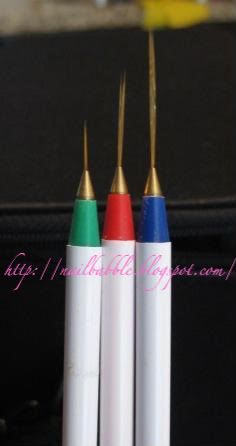 I think they were $45 with a 10% discount cuz I'm a nail student and it came with the 6 brushes and a bunch of instructions on how to use the brushes to create the art.
And then I bought these acrylic nail art paints. The whole pack was $15 minus the 10% discount for 12 paints and the little baggie they come packaged with.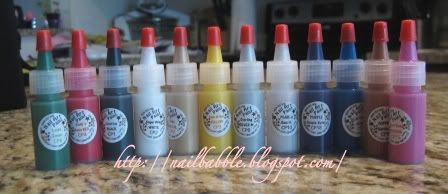 To be honest, I'm not much of an instruction reader or follower when it comes to art. I didn't want to read instructions, I was so eager I just wanted to get to painting! I'll figure it out eventually on my own. I just find that I have my own way of doing things that work for me...It was fun and I don't get to do much drawing unless it's with my kids. Plus my daughter is loving the nails and that's a huge bonus.
But I can't believe how easy these made it to paint on my nails! If you make a boo boo, you just dip a brush in water and kind of swipe it away. It's acrylic, not nail polish so I didn't feel too bad if I messed up. Although the red does tend to stain the background...which reminds me that I forgot to apply a base to my pointer finger nail and I painted it with a dark red! gah. I can only imagine what that poor nail is going to look like (o_O)
Anyway, hope you enjoyed the pics and hope you guys find something to inspire you...even if it is a dude who flies around in a red and gold suit.
You have read this article iron man / movie theme / my nails / NAIL ART with the title Movie Themed Nails: 1st edition...Iron Man. You can bookmark this page URL http://ojezevki.blogspot.com/2010/05/movie-themed-nails-1st-editioniron-man.html. Thanks!